First connect to HaleNET using your FTP client software. We recommend using WS-FTP. If you need to set up WS-FTP then please view the images below.
A copy of WS_FTP can be downloaded from the HaleNET ftp server. Click Here and click on ws_ftple.exe for a Windows 95/98 version.
Please Note: The hostname address to upload your home pages to is ftp.halenet.com.au.
Please Also Note: The homepage remote system directory is.
/home/usr3/initial/login name/public_html for /~username pages and
/home/usr3/initial/login name/domain name.com.au for Domain web pages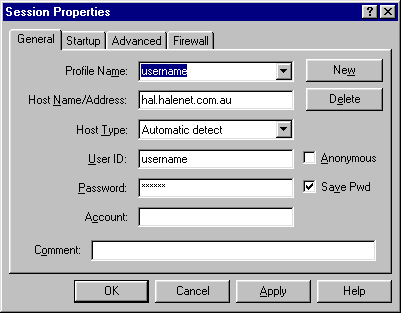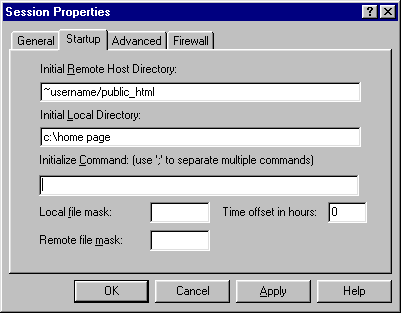 You will see the screen above when you click on the connect button on the bottom left hand corner of the image below. In this case it is shown as Close. This button changes to connect when the session is not connected. When you click on this button with your mouse the window above comes up and you will need to configure it the same as above and save the settings. The next time you wish to use WSFTP all you will need to do is highlight the correct profile, type in your password and click on OK. This should then log you on.
Next check to see that you are uploading to your public_html directory. In the image below you can see that on the right hand side top that there is reference to the Remote System. This should be /usr3/n/your user name/public_html. The n will be the first letter of your user name.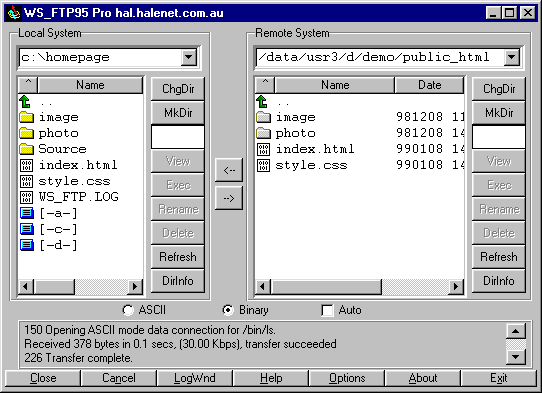 On the left hand side is the reference to your computer. This is a list of the files on your computer. You need to click on the file you wish to upload and highlight it. Then click the arrow pointing to the right in the middle of the WS-FTP screen. This will upload the selected file\s to your public_html directory. It is important that there is an index.html file in your directory, as this is the file which will be loaded when visitors view your site. It is possible to select more than 1 file at a time by holding down the control key and selecting each of the files you wish to choose by clicking on them with your mouse (to select a large block of files click the first one then hold down the shift key and select the last one).
If you wish to change or update files then this can be done by selecting the file on the right hand side of your WS-FTP screen and either deleting or renaming the file using the WS-FTP facilities.
If you have any trouble then please feel free to email admin@halenet.com.au and we will endeavour to help sort out any problems.